About Us & Why We are
The Right Team For The Job
It is our goal to distinguish ourselves by providing a quality product and superior service on every level with a continued commitment to value, honesty, integrity and reliability in our business practices and relationships.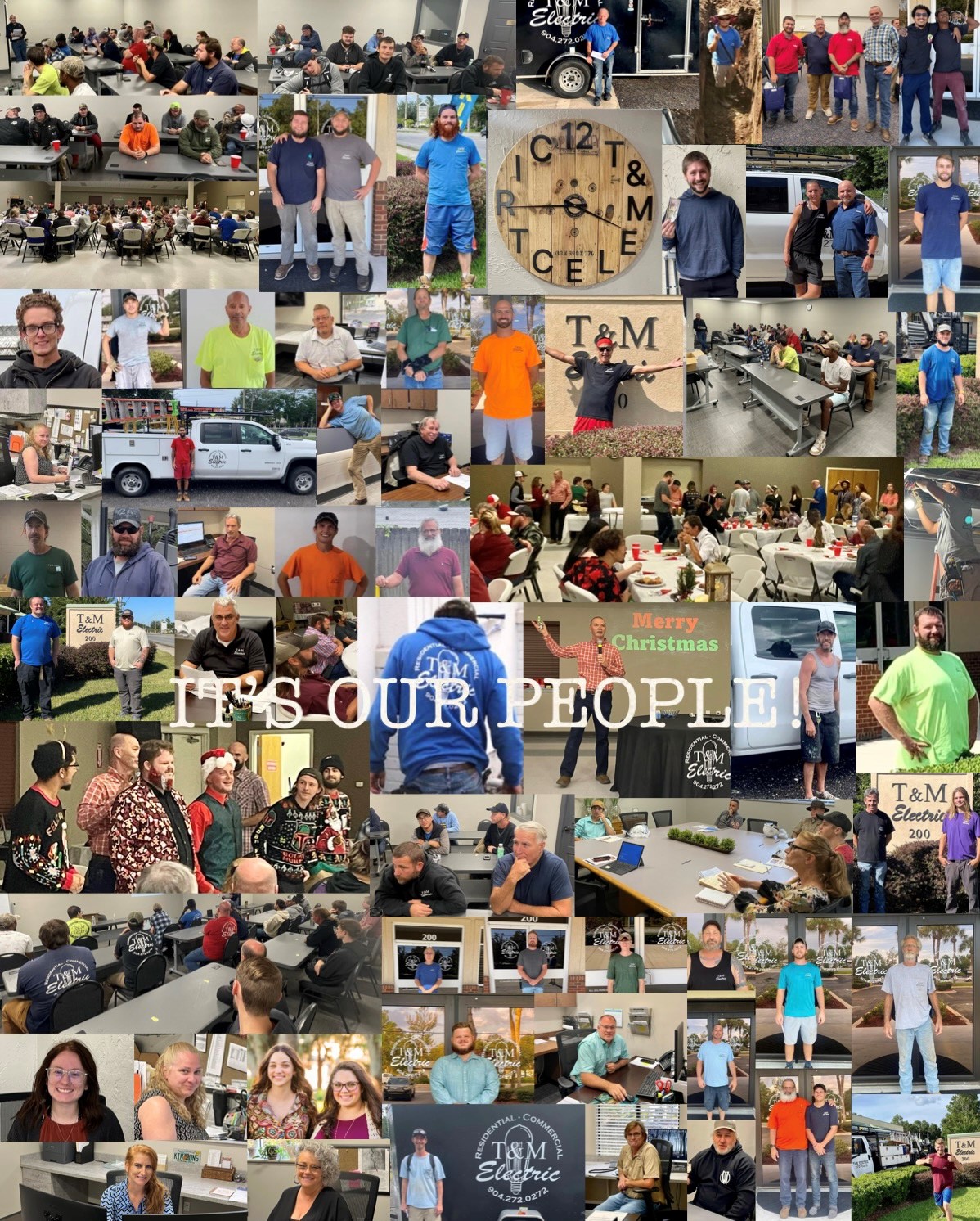 Linda
I'm 74 and as I have aged I have watched customer service slowly fade away. Tina and Travis renewed my faith in this matter. They are understanding, professional and are a great asset to T&M!
The Jackson Family
I rarely do reviews; however, the service that I received from T&M Electric definitely merits one. The gentleman by the name of Greg did the work and he was so kind and professional. Tina is always so kind when I speak with her and the icing on the cake... THE COST! I called several companies and the price that we received from T&M Electric was the most affordable for our budget. I HIGHLY recommend T&M for all your electrical needs!
Erma
Jason, Jeremy, and Sam were very courteous and kind to me. They are precious young men and I'm so thankful that they are dedicated to their jobs. Thank you so much. I thank you, our Heavenly thanks you, our Lord and savior Jesus Christ thanks you, and by the power of the Holy Spirit thanks you and will bless you abundantly and above all that you can ask or think according to the power working in you! From a little old woman who will soon be 90 years old, I am truly blessed by your company and you!!!
Vicki
From the office staff, to Tina, to the owners helping me get scheduled as soon as possible, after my home wiring was damaged during a storm... to the day of installation! This company was professional, yet went a step higher and they were kind and caring! Something that is hard to find in this day and time! I would never use anyone for my electrical needs in the future except T&M Electric.
Nestor
Best service ever, I give a 300%
Diane
Most professional contractors I've had in recent history! Prompt arrival, worked diligently to complete the job, cleaned up all trash. Techs were personable, friendly and courteous. We were referred by another customer and will most definitely refer to others as well as call for any future issues ourselves. Thank you for having a professional company and staff!
Anna
Highly professional, very, very competent, great personality! Tough job! All is working efficiently!! Thanks, Tina for getting us scheduled so fast!
Speight
Travis and Sam were exceptional in completing the job. They were quick and efficient. They worked well together and ensured the job was done to our satisfaction. We will certainly call again as needed. We appreciate your quick response as well. Thank you!
Jeff
Great experience with T&M on a new construction project. They're very organized, responsive, thorough, and explain everything in detail. They have great customer service skills and are a pleasure to work with. Big thanks to Kevin, Tina, and Seth. Everything went well from interaction with the office staff to eh actual field execution.
Richard
We had an addition and they took the time to explain what our options were and what would best suit the space. They were able to ruff in everything in one day. Came back after to install outlets, lights, etc. and evidently our drywall guys covered up an outlet and they remembered and knew where it was and was able to get it uncovered and installed. Great work, great bunch of guys that came out. Tina also was amazing keeping us in the loop as far as scheduling EVERYTHING. Even inspectors respect the work that they do which to me matters. Will certainly call them again if I need any electrical work done.. thanks again!
Anita
I recommend T&M Electric to everyone looking for electrical services. Always very professional and they know their stuff! The guys who came to my house were top notch and took care of my issues quickly. I can't say enough about Tom and Tina in the office. Thank you for keeping my home safe and my mind at ease!
Raymond
I could not be happier with my T&M service. From Kevin's initial analysis, the price of work, and the two fantastic employees who performed the work, everything was outstanding. I will call T&M anytime I need electrical work.
Jill
Excellent customer service! Electrician was on time as promised and quickly got our pump running again. Super friendly people! We will definitely use again!
Roger
These folks are great to work with! Very responsive and flexible. Prices are very reasonable, and the work is completely professional!
Bonnie
What amazing service! They came out the same day after hours and fixed our breaker system. Very professional, hardworking, and amazing! I will definitely use them again!
Christine
T&M came on time and reconnected my attic fans, they were efficient and quick! Here less than an hour and did great work. The gentlemen were polite and professional. Will use them for any future electrical needs! Thank you for great service.